What Do IPC Classes Mean?
IPC separates PCBs in electronics manufacturing into three different classes. These classes signal the quality of the PCB, with Class 1 being the lowest quality and Class 3 being the highest quality. Companies that produce electronics with PCBs should be aware of these different classes since they dictate the safety and performance specifications companies must meet in inspections and the quality standards that apply to the products.
Class 1 – general electronic products: Class 1 products are for applications in which the primary requirement is the function of the completed IPC assembly. This class includes most typical everyday products and consumer electronics.
Class 2 – dedicated service electronic products: Class 2 products must have high reliability and extended life. Uninterrupted service is preferable but not critical. The use environment of the product typically wouldn't cause failures. Some examples of these products include microwaves and laptops.
Class 3 – high-performance electronic products:

 

Class 3 products must provide continued performance or performance on demand. There can be no equipment downtime, and the end-use environment may be exceptionally harsh. The equipment must function when required. This category includes critical systems such as life support systems. Class 3 PCBs are used in advanced medical equipment, clean technology and machine learning.
Umut Tosun, Application Technology Manager at Zestron America, explained, "The major differences between Class 2 and Class 3 are found in component placement for surface-mount components, cleanliness requirements based on residual contaminants on the assemblies, plating thicknesses as defined in plating through-hole and on the surface of PCBs."
During assembly, surface-mount components might be slightly placed off pad. This is what we call a visual defect since it does not usually affect the electrical and mechanical performance. It, therefore, does not matter for Class 2 circuit boards. However, Class 3 does not accept any imperfection and this type of assembly misstep will cause the circuit board to fail the inspection.
The amount of barrel fill required for through-hole leads is 50% for Class 2 and 75% for Class 3. As it can be delicate to get the paste into small plated through-holes (PTH), Sierra's advice is to design your PTH 15 mils over the diameter of the lead. This way, you will have 7.5 mils on each side, which will make it easier for the paste to fill the barrel.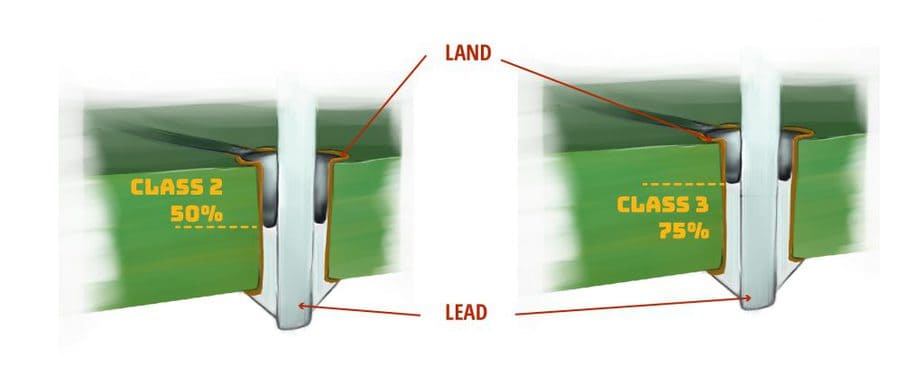 Factors
Class 2
Class 3
Surface-mount components
Can be slightly placed off pad. (Considered as a visual defect, doesn't affect the electrical and mechanical performance)
Imperfections are not acceptable including visual flaws.
This kind of imperfection will cause the circuit board to fail the inspection
Amount of barrel fill
Through-hole leads 50%
Through-hole leads 75%