Metal Core PCB material including Aluminum PCB,Copper Base PCB. Aluminum is popular in the market special in LED lights market because of Cost .

Metal Core PCB means the core (base) material for PCB is the metal, not the normal FR4/CEM1-3, etc. and currently the most common metal used for MCPCB manufacturer are Aluminum, Copper . Aluminum has good heat transferring and dissipation ability, but yet relatively cheaper; copper has even better performance but relatively more expensive.People will choose their own base/core material according to their different application.
1. Aluminum PCB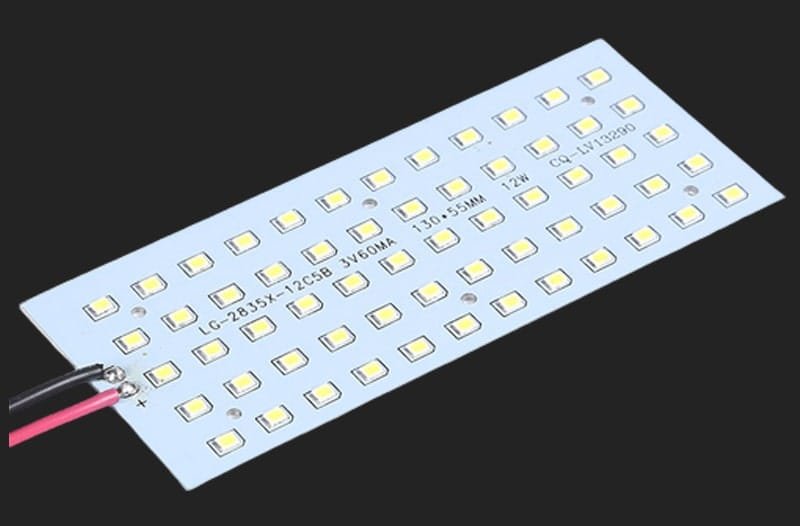 Aluminum PCB , also,it is called Aluminium PCB,metal core PCB,mcpcb, IMS(Insulated metal substracte).
Aluminum PCB have 3 parts:
1.Circuit Layer (Copper Layer)
This is printed circuit copper foil layer, From 1.0 oz up to 8 oz (35um-280um). Min.Trace/space 5/5mil(0.127/0.127mm)
2.Dielectric Layer(Insulated Layer)
There are very good price and delivery time if the raw material made in China and Taiwan, we also,have many customer who choose Bergquist Thermal-Clad and Larid Tlam material,strict meet customer's Requirement to manufacture the AL PCB.
3.Substrate Layer(Metal layer)
There are 4 types Aluminum, 1001, 3001, 5052, 6063. If no requirement of this from,we used 5052 for High thermal conductivity (2.0 W/m.k or more) , AL1001,AL3001 for 1.0 w/m.k to 1.5 W/m.k
Aluminum Clad PCBs
Available as 1 layer Non-Plated Through Hole (single sided), And 2+ layer Plated through Hole. Ideal application for LED lighting, power supply solutions. Aluminium Clad Benefits Include:
Lower operating temperature.
Reduce printed circuit board size.
Increase power density.
Extend the life of dies.
Reduce the number of interconnects.
Improve product thermal and mechanical performance.
Combine power and control.
Improve product durability.
Enable better use of surface mount technology.
Expedite heat sinks and other mounting hardware.
Replace fragile ceramic substrates with greater mechanical durability
About Price:
Price is based on the requirement of LED PCB
1. PCB thickness: 0.6 – 3.0mm, always thickness more ,price higher
2. Thermal conductivity: 1.0 – 10 W/m.k , thermal conductivity higher, price higher
3. Material factory: Bergquist, Laird ETC, made in US factory that is more expensive than China.
2. Copper Core PCB 
Copper core PCB is a copper substrate + Insulated layer + copper
Copper core PCB is a copper substrate + Insulated layer + copper circuits layer PCB,also, it is called copper substrate pcb, copper based pcb,copper clad pcb.
As a MCPCB manufacturer,we made various Copper core PCB for customers,
Which used for High Power LED lighter ( 1000W+ ) and power supply.
In LED field,there are 4 types of Copper based Circuit Board.
2. COB Copper PCB(Chip on Board copper PCB)
LED chip Direct thermal sink to copper substrate.
3. Direct thermal path,no dielectric layer under the thermal path pad.
4.Direct thermal path,no dielectric layer,Aluminum-copper pcb.