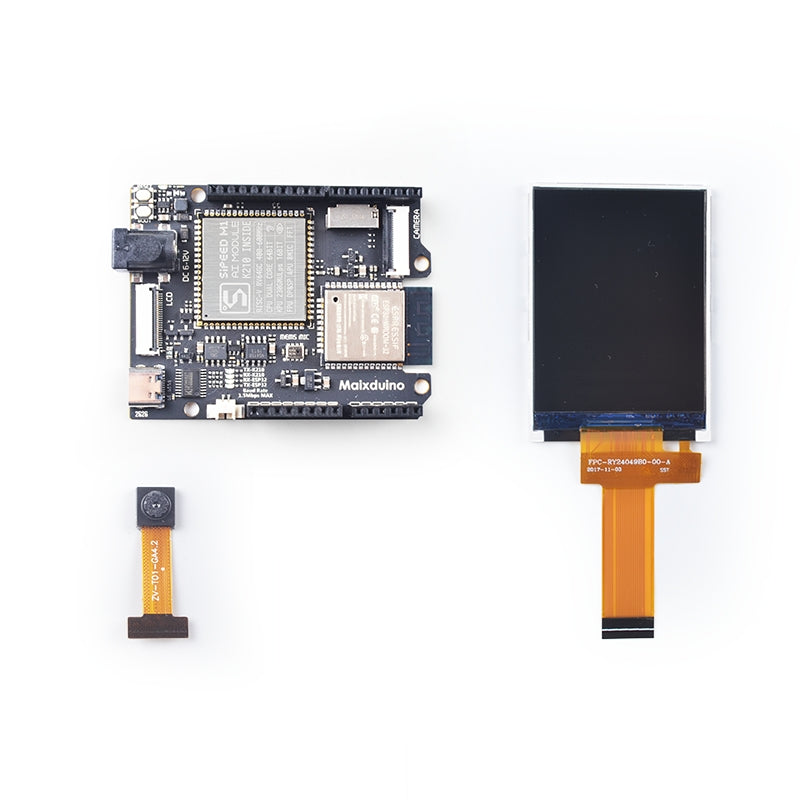 Sipeed Maix Duino Kit K210 RISC-V AI+ LOT ESP32 with GC0328 Camera and 2.4 Inch Screen
Regular price $47.60 Sale
Maixduino is a member of Sipeed's MAIX product line. It is an AIOT
development board based on Canaan Kendryte's K210(RISC-V architec-
ture 64-bit dual-core), a SoC desgin for foredge intelligent computing.
The board includes a M1 AI module & a ESP32 module, both of
them are connected to an Arduino-like motherboard. The motherboard
provided a USB Type-C interface and USB to UART circuit.
Developers could directly connect the board to the computer via a
USB Type-C cable. Maixduino includes multiple peripherals for stan-
dard: 200W pixel camera, LCD, Mic, PA, TF card, etc. It also lead out
some IOs, which is convenient for developers to expand. What's more, It
compatible with Arduino-like board's shape, which means that devel-
opers could expand with compatible modules. In addition, the
on-board ESP32 module supports both WiFi and Bluetooth connection,
which makes wireless transmission easily.